Business Hours
Emergency Services Available 24/7
| | |
| --- | --- |
| Day | Hours |
| Monday | 6:00 AM to 8:00 PM |
| Tuesday | 6:00 AM to 8:00 PM |
| Wednesday | 6:00 AM to 8:00 PM |
| Thursday | 6:00 AM to 8:00 PM |
| Friday | 6:00 AM to 5:00 PM |
| Saturday | By Appointment |
| Sunday | By Appointment |
We accept the following payment methods:
Point to Point Wireless Bridge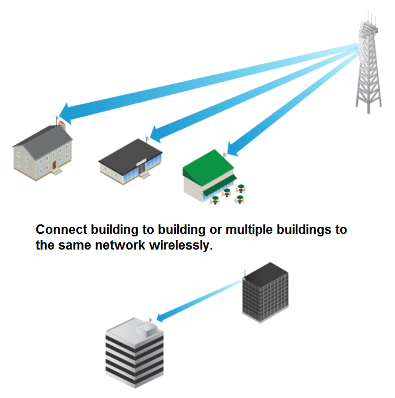 If it is impossible or expensive to connect a building to another building on the same network with wires, you need a wireless bridge. Imagine an invisible Ethernet cable between buildings, linking network devices together.
We can establish a wireless bridge up to 62 miles away to connect computers, VoIP phones, cameras, and share internet at fiber speed and bandwidth within hours. No need to worry about cables being cut or vandalized in the ground anymore.
We'll design and install a wireless bridge to fit your budget and bandwidth requirement. Our wireless bridges can be installed faster and cheaper than fiber optic cable, indoor or outdoor.
Get connected with the help of MicroTech Systems. To schedule an installation please call us today.
Our Other Services Include:
Cyber Security  
Voice, Data, Video Cable Installation  
VoIP Phone System Installation & Sales   
Network Cabling & Trouble-shooting 
Install & Repair Phone & Computer Wiring 
Business Phone Systems Sales & Installation
Security Camera Systems Sales & Installation
Wi-Fi Network Systems
Wireless Bridges - Point to Point
Telephone Jack Repair & Installation  
Why Choose Us?
Same Day Service
Advanced Technology
Insured in California
Highly Trained Technicians
All Work is Guaranteed
Your One Source Technology Provider
Technology Solutions Provider since 1982